Demonstration Farm in France
In France, Yoan Thomas, a young shepherd, took over the experimental farm of the French National Institute for Agricultural Research (INRA), where he worked as an employee. He has increased grazing 470 organically farmed ewes.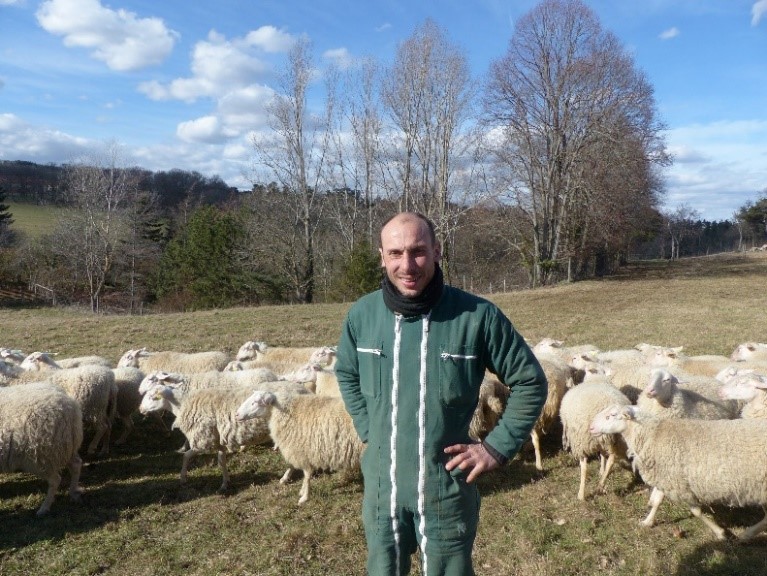 Since 2014, Yoan Thomas has established himself as a breeder in Auvergne, France. A breeder like no other, since he took over the experimental farm in Romagnat in the Puy-de-Dôme to create his own farm. After two years with 2 jobs, in 2016 he decided to dedicate all his time farming his ewes organically.
On permanent grassland (106Ha), its farm is located on the heights of Clermont Ferrand. A peri-urban situation where land pressure is felt everywhere, Yoan considers himself lucky.
Maximized grassland
The ewes are grazed on permanent meadows all year round and return to the sheepfold for only twenty days around the lambing. Yoan' main objective for his flock is to produce meat lambs along the year, he carries out two different periods of lambing: one in autumn (October) with the half of ewes, and the other one in spring (April). 12 rams (7 Limousine, 3 Suffolk and 2 Rava) are used alternatively to ensure the renewal of the herd and lamb  production. Good grassland and plot management tend towards autonomy, concentrates are used for sheep lamb production.
Valued production ?
Yoan sells his organic lambs to the local cooperative. After 3 years of operating, the production unit releases the equivalent of two minimum wages and Yoan believe the farm can operate as a company with his  companion. But with the halt of organic maintenance premiums within two years, and the end of five years of subsidy commitment in 2019, they are currently uncertainwhether this is still viable. If the project is successful, they will consider marketing their lambs for direct sale.
Herding Dogs
Yoan works daily with two dogs: a Beauceron and a Border collie. Why work with two dogs? To be sure of always being accompanied by a dog in case of a problem. Indeed, working with a single dog is restictive, often two dogs can work better to move sheep, some are more skilled at certain tasks and if one can no longer work, the shepherd has the second. With these two companions, he is always well supported!
A network and demonstration activities 

Yoan Thomas is part of the Inosys livestock network. While working for INRA, he was already in touch with the network. It is therefore natural that he continued to be involved with the network when he took over the farm. He organizes events on his farm when asked. For him, making himself available for organized activities on his farm is essential: "I was lucky to be able to settle on this farm, I want to help". Although he does not perceive any financial advantage, it is the highlight of his work on the farm and his desire to share his job that motivates him.
Author: Marina Cholton