13th European IFSA Symposium
Farming systems facing uncertainties and enhancing opportunities
The 13
th
European Farming Systems Symposium (IFSA – European Group) will be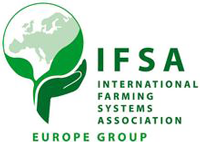 held in the Mediterranean Agronomic Institute of Chania, and hosted by the Lab. of
Agricultural Extension, Rural Systems & Rural Sociology, Dept. of Agricultural
Economics & Rural Development, Agricultural University of Athens.
For this Symposium, we welcome a diversity of perspectives on farming systems and
different narratives of pathways. We would particularly like to attract researchers and
practitioners from both natural and social science backgrounds who are new to
systems thinking and who may be able to contribute constructively to lively debates
on how we can design and deliver more sustainable farming and livelihood systems
for the future.
Location
Greece
35° 31' 0.0012" N, 24° 1' 0.0012" E
GR
Start date:
2nd July 2018

to

5th July 2018
Greece
Latitude: 35.516667 / Longitude: 24.016667